One place for both
Combine both Verification and Deliverability to ace your next campaign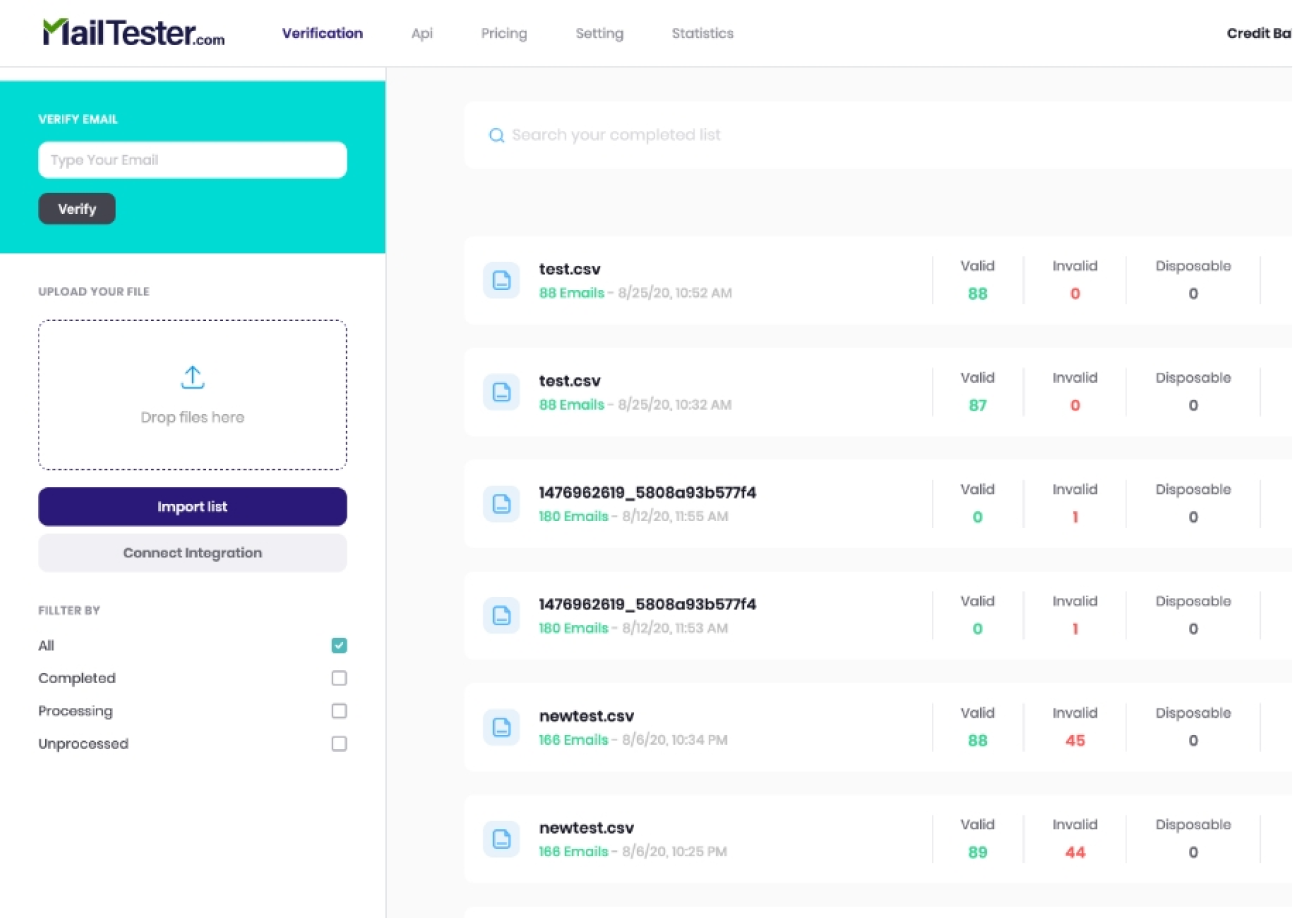 Mail Verification
99% accurate email checker and email verification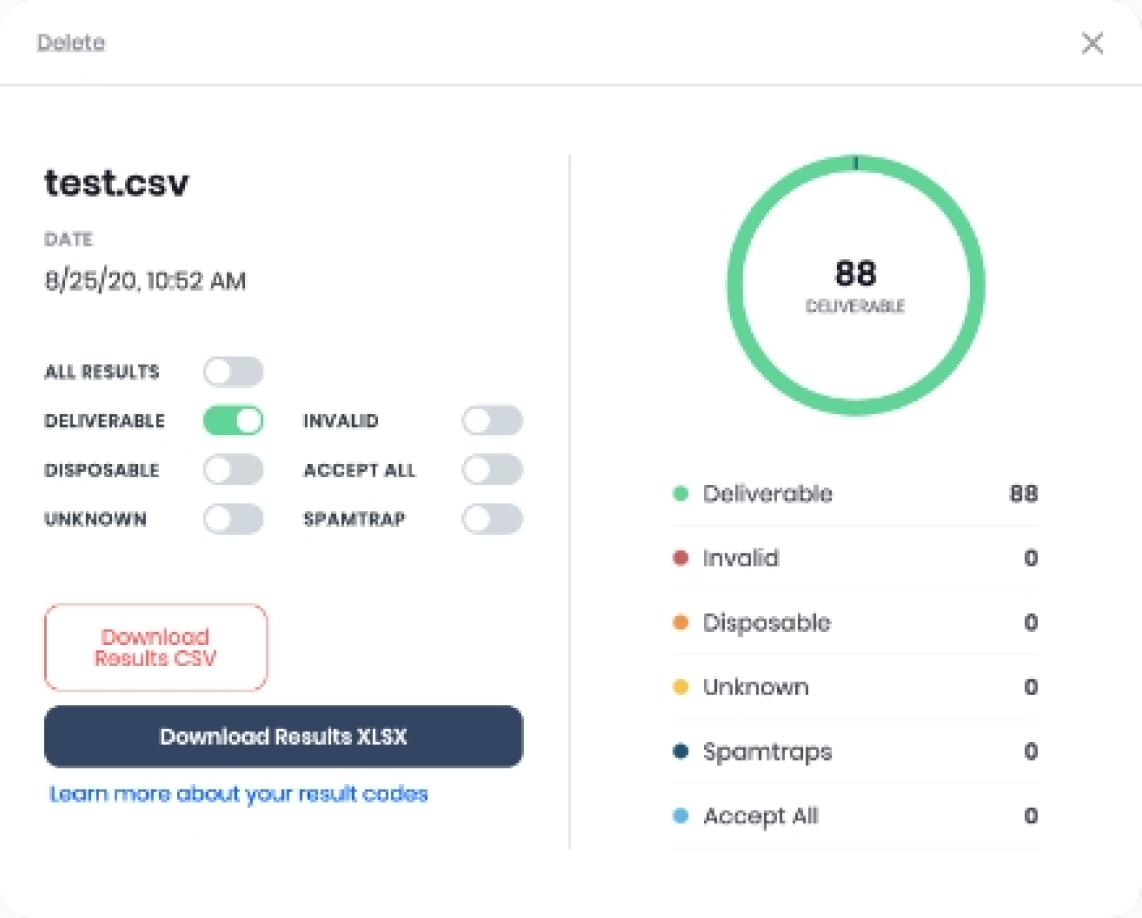 Deliverability Suite.
Reach the
Inbox.
Increase Your Email ROI.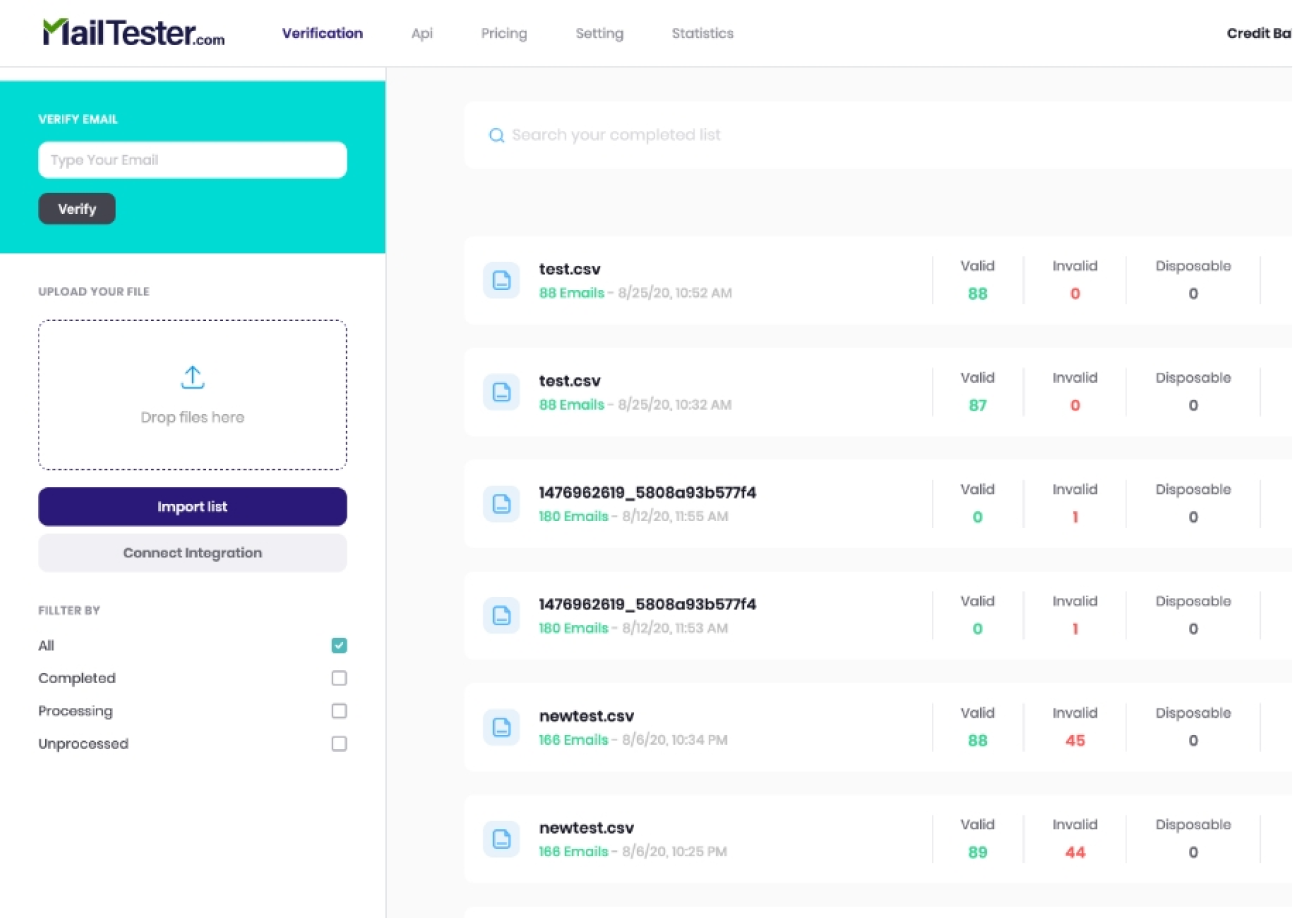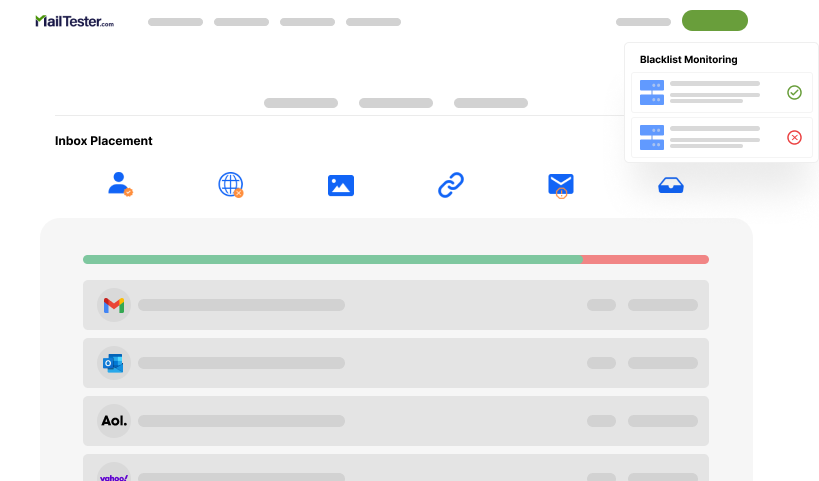 Is MailTester.com right for your
email verification?
Get more ROI
Your email campaigns couldn't drive results if your list is full of invalid email addresses. You would have to pay for emails that won't get delivered ever. Scrub your list with MailTester.com email verifier, remove those unwanted emails and watch your ROI increase.
Catch bounced email
Toxic emails can creep into your email lists in many ways-- may be a visitor mistyped his email or someone used a non-corporate email to get that super useful lead magnet you offer. Catch those irrelevant and invalid emails with MailTester.com API and prompt users to submit only valid emails.
Be in ISPs' good books.
ISPs keep tabs on how many time you send emails to shady email addresses. Once you cross a threshold your sender reputation takes a hit. Your emails start ending up in spam folders and in the end, you get blacklisted. Verify your email list with MailTester.com and enjoy a pristine sender reputation.
Get Started
Peep into MailTester.com
toolbox
Duplicate email remover
Identifies and removes all duplicate contacts.
Spam trap removal
Searches for spam trap emails in your list.
Risk validator
Removes emails with high-risk keywords or sketchy TLD.
MTA validations
MTA validator checks whether an MTA has a valid MX record.
Domain validator
Gets rid of any email with inactive, parked or invalid domains.
Complainers verifier
Any email that matches with our complainer database gets eliminated.
Syntax verifier
Syntax verifier catches emails containing invalid syntaxes and deletes those.
Real-time bouncing
Removes hard bounces and invalid emails using an SMTP check.
Disposable email checker
Checks if an email is disposable. Immediately removes it when found.
Team account
Allows multiple users to verify lists while spending from the same credit pool.
Anti grey-listing tech
Anti grey-listing tech verifies even most difficult-to-verify email addresses.
Selected download
Allows you to download specific segmented results.
Validation & Delivrability Solutions
Single Email Verification
Want to verify an email before hitting the send button? Just type it in MailTester.com's Single email verification box and get your result instantly.
Learn More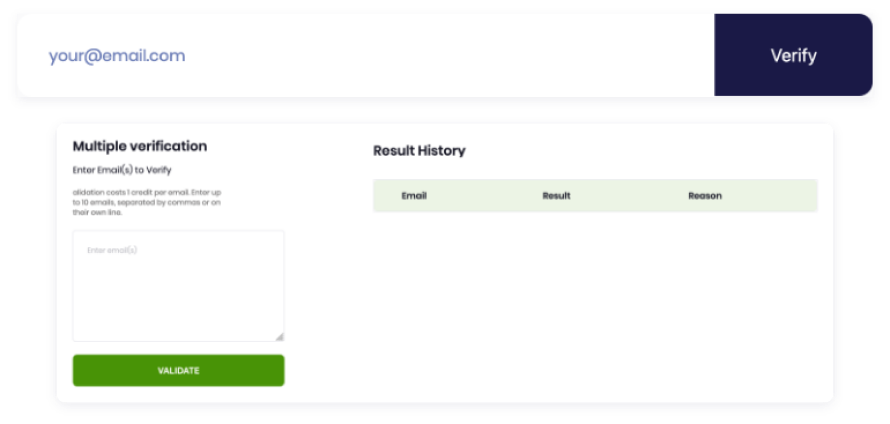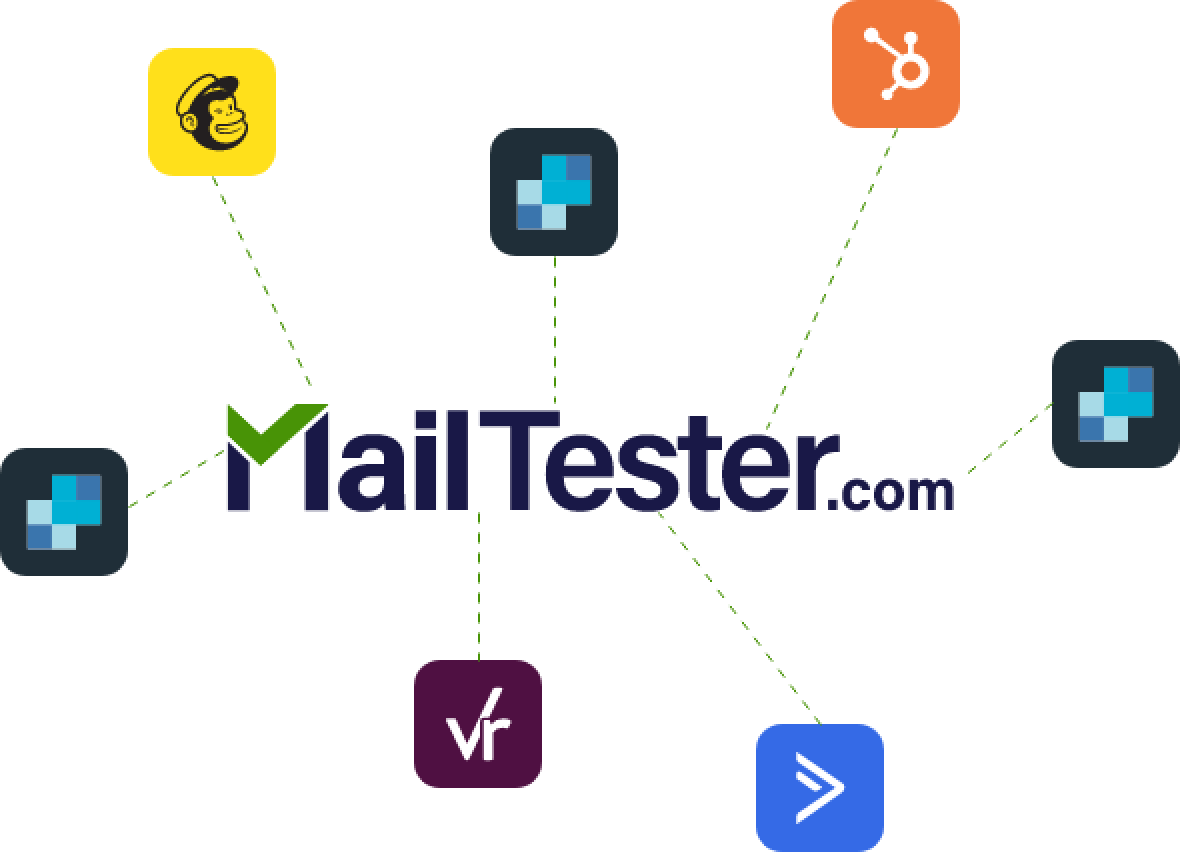 Stay connected to the applications you use
MailTester.com supports seamless data transfer between MailTester.com dashboard and your favourite apps through integrations.
Learn More
Pay-as-you-go
Subscription
5K Credits
$19
$0.0038 per email
10K Credits
$29
$0.0029 per email
30K Credits
$59
$0.0020 per email
50K Credits
$99
$0.0019 per email
100K Credits
$199
$0.0018 per email
300K Credits
$359
$0.0012 per email
500K Credits
$479
$0.0009 per email
1M Credits
$799
$0.0008 per email
2.5M Credits
$1,199
$0.0005 per email
5M Credits
$2,039
$0.0004 per email
Customer testimonials
Heath Atwood
Email Marketing Expert

When I signed up for MailTester.com, I was a bit skeptical at first. How much difference can it make for a relatively smaller company like us? Answer: a lot. We didn't change our email strategy much still our email open rate has increased like 3-4%. I recommend MailTester.com.
Caitlynn Potts
Chief Marketing Officer
Upsend
We were looking for a mail validation service that can handle a large volume of emails and return accurate results. Now MailTester.com is our go-to solution.
We are a small startup and can't afford to spend hundreds of dollars every month on email verification. MailTester.com's flexible pricing plan works for us. And the service you would get is excellent.
Alex Lee
Sales And Customer Success Manager
AB Real Estate
Efficient, reliable and pocket friendly--- I love MailTester.com. I have personally recommended this app to my entreprenuer friends.
Jordy Eubanks
CEO
Horizontel
Mailtester is awesome. We have big lists here with us and we keep them clean with MailTester.com. It never disappoints.
Anaiah Whitten
Marketing Expert
I am a fan. MailTester.com is super accurate and easy to use. I set it up and forget about it. It's doing its job without any issue.